Behind the Imperial Mask
Type:
Game:
Author:
Post Date:
TPLord Z9
January 6, 2001
Background
Tired of levels where you play as Kyle again? Imperial Mask's plot has been revamped, and takes a never-before-used twist. Kyle is dead. He was assassinated during a diplomatic meeting five years ago. You play as Jan Ors, who joined the New Republic Intelligence Service and vowed to hunt down his killers. After uncovering the traitor behind it (in the PLANNED prequel), things were pretty much the usual...until today. This was when Intel received an emergency call from Taril. Evidently, a group called Neutron Shield mounted an assault on the Museum of Xeno-Archaeology. The Director of NRI assumes they are after the material value of the artifacts, but there is more than credits involved. What follows will lead the Republic into open war and a dark secret none could ever imagine...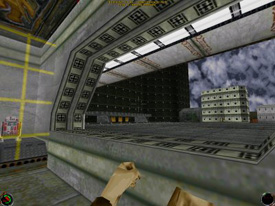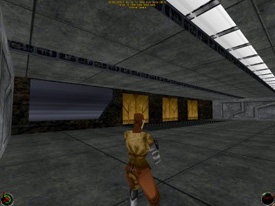 Features
Since I've totally restarted the series for JK, I am working on a new level which is going smoothly. It takes place in and around the Museum on Taril, and the sequence of further levels in the series is pretty much set in stone. New features include the improvement of the JK graphics engine for sharper texture detail at long distance (level header), the slowing-down of Jan's speed so it's more realistic (how fast can one person run?), new textures, and I am considering entirely new skins and 3DO's, though I lack the skills as of now to actually DO such work.
Status
I can't really put down fixed numbers, as I work rather flexibly. However, there are estimations:

Architecture: 15-20%
Texturing: 15-20%
Lighting: 15-20%
COGs: 2%
Other Stuff: 5%